Fourth of July Parade
Boys look forward to traveling to Woodsville, New Hampshire to view this annual, traditional event. Kingswood enters a float in the parade each year, to go along with the town's set theme. Campers are allowed to spend $9.99 in a local grocery store, and examine their loot while cheering on the parade. Another $5 is provided to spend at a carnival nearby for lunch.
North Haverhill Fair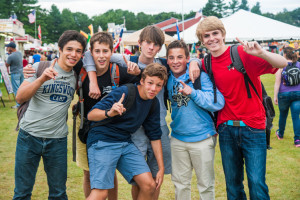 This annual event at the end of July is an old-fashioned New England town fair. Campers get an allowance to spend on food, games, rides, and souvenirs. We arrive at the fair in time for dinner and return close to bedtime. Often, there is a special fair event coordinated on the night of our arrival such as an American Idol competition, Demolition Derby, or Tractor Pull. Good, wholesome, traditional fun!
Click on any of the images to enlarge
Back to Trips                                                        Next to "Prize" Trips