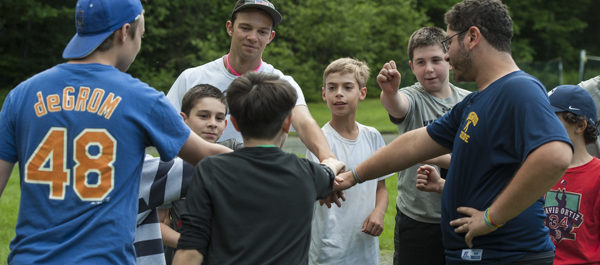 Kingswood's Philosophy on Sports
by Mike Wipfler
There are many things that make the Kingswood experience unique: our close-knit community, our individualized scheduling, our relaxed yet highly supervised environment, our picturesque location, our experienced staff. But I'd add to that list our sports program. The Kingswood sports program is guided by a strong philosophy and provides campers of all ages and abilities with opportunities for competitive and non-competitive experiences.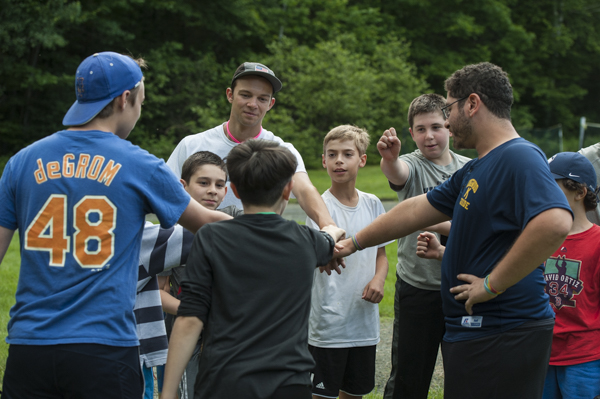 Although many of us at Kingswood are highly competitive, winning is not our number one priority. To us, the most important aspect of any game or competition is sportsmanship. In the heat of battle, how do we treat others? At Kingswood, we hold our staff and our campers to a very high standard. While we would like to win each game, what we really care about is that each game is played the way it ought to be played, from the opening whistle till the bitter end and beyond. It is our hope that we can help our athletes learn how to be supportive teammates, tough but fair opponents, respectful participants, gracious winners, and good losers. Some of the loudest cheers in the dining hall are made for boys who exhibit great sportsmanship and character on the sports field – self-reporting a dropped pass at a crucial point in a touch football game, giving 100% to the final whistle in a lop-sided loss, distributing the ball well as a point guard, encouraging a teammate who's feeling frustrated. That is what Kingswood sports are all about!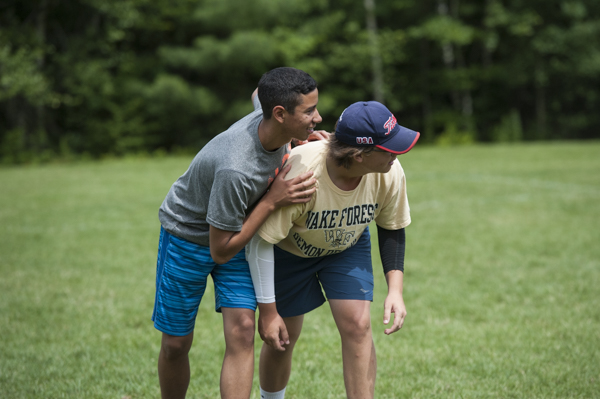 Kingswood is also a bastion for those children fleeing the "professionalization of youth sports." In our opinion, children are being asked or being required to choose their "career" sport far, far too early. While there are certainly merits to intensive focus on one sport, athletes can learn a lot by playing a variety of sports and develop different skills that can benefit them as athletes and as people. Even if the only team a boy plays on at home is an AAU basketball team, at Kingswood we urge him to try new sports or sports that are less familiar to him, first as basic morning clinics, and additionally in games and tournaments in the afternoon. We see this as important for a few reasons. First, these might be the only opportunities a child has to participate in these sports in a competitive environment. Secondly, since specialization can lead to burnout, enjoying some variety might actually help sustain the passion for a boys' primary sport. Third, many skills and strategies overlap from sport to sport, and so playing a different sport can help athletes cross-train and build upon skills they already have, such as spacing or defensive positioning. Finally, playing a sport that is not your primary sport can sometimes instill some humility in star athletes, allowing them to become more empathetic and a better teammate in the future.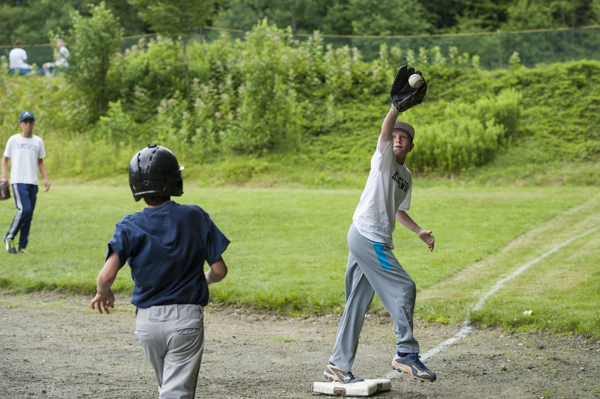 A third guiding principle we have at Kingswood is that "the fun is in the doing." While we do reward our teams that win tournaments with a trip to Moose Scoops for ice cream, we do not collect trophies or banners, and the success of a tournament is based on enjoyment, not wins and losses. There are no cuts, and the only time we ever limit our roster is when we run out of space in the vans! Furthermore, everybody on the team gets significant playing time. In fact, counselors take great pride in their ability to get all their players involved in the game while at the same time giving their team the best chance to win. When we compete, we give it our all, but if the outcome isn't in our favor, so it goes.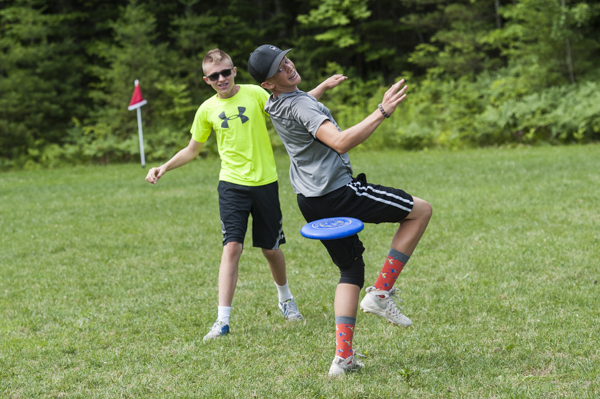 Another aspect that is unique to Kingswood is the variety of opportunities campers have to compete. Kingswood is fortunate to be part of the Baker Valley League, an association of four camps located within ten miles of each other. Whereas many school and travel league teams need to travel hours for games, our furthest commute is just twenty minutes! And the level of competition is perfect – each camp has roughly the same number of boys and philosophy in regards to sports. Thus, in a four-week session, boys of all age groups have games and/or tournaments in baseball, basketball, soccer, and tennis. Many age groups also have the opportunity to compete in lacrosse, ultimate frisbee, floor hockey, archery, and a track meet. We've even done sailing regattas!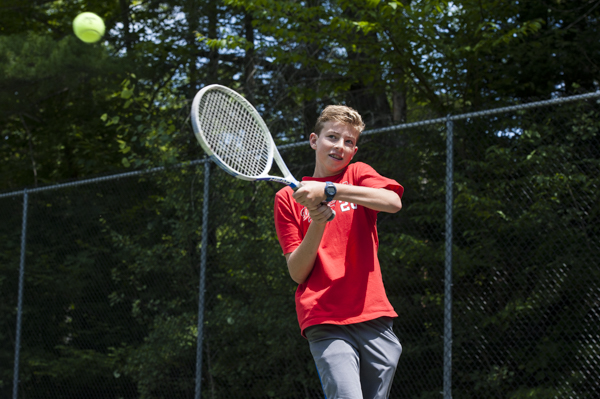 While Kingswood's events against opposing camps are very popular, our intramural games and tournaments might be even more popular! The biggest tournament we run is our two-hand touch football tournament, which is distinct because teams are composed of campers and counselors of all ages. Not only does this provide another opportunity for younger and older campers to get to know each other, the rules of the tournament are such that younger players are just as important, and in some ways MORE important, than older players. For instance, a touchdown scored by a senior is worth five points, but a touchdown scored by a junior is worth eight points! Consequently, when a team in near the goal line, the quarterback usually draws up plays to get the ball to one of the youngest players! Furthermore, a second touchdown by any player is only worth four points, so quarterbacks are incentivized to distribute the ball and get everyone involved in the action.
Another in-house tournament that is very popular is the Packer Generations Basketball Tournament (PGB). Since only five players are on the court in basketball, intercamp rosters sometimes get quite large and, naturally, playing time can be hard to come by. So throughout the camp session, each age group has its own tournament at Kingswood. Usually each age group has about twenty players, so the basketball coaches create four equal teams and play a round-robin tournament. To give the event a little more gravitas, our Head Counselor and former hockey commentator, Klaus, is courtside, microphone in hand, serving as both the play-by-play announcer and the color commentator.  After every team has played each other, the teams are seeded and play a semifinal match. The winners advance to the finals, which is held on a later date – when the finals of all age groups are played under the lights and the whole camp comes to watch, cheer, and enjoy concessions.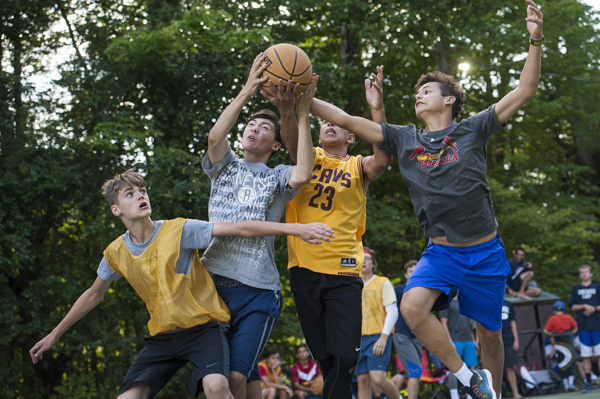 So as the days get shorter, and the weather gets colder, let us all dream of the days of summer – when, at Kingswood, a variety of competitions abound and sportsmanship reigns supreme.