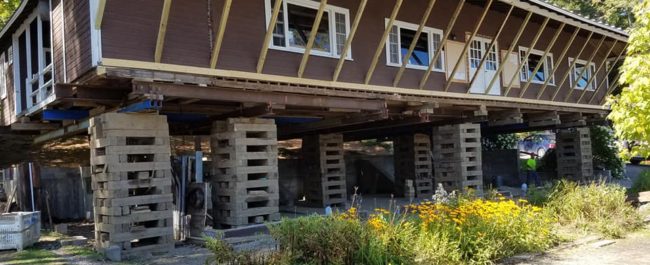 Making Light of the Dining Room Project
BREAKING NEWS: Piermont, New Hampshire. Local Summer Camp announces plan to generate its own electricity.
A spokesperson for Kingswood Camp has informed the local authorities of the facility's intention of producing power on site during the summer months when the camp is in session. "We got the idea early last July when enough rainfall came tumbling down the hillside to practically flip our main road into Lake Tarleton," offered Kingwood's maintenance director, Dan Bixby. "The Dining Room in particular, built way down the hill near the water's edge, created what amounted to an eighty foot dam," he contended. So, to both alleviate pressure on the structure, which was witness to a gradual erosion of its foundation, the camp administration elected to raise the building five feet and erect turbines on the southern end of the basement area. "So now, all we have to do is wait until the next huge rain storm to hit, and we are golden," Bixby concluded.
The camp's director, Rob Wipfler, who lives in nearby Lyme, when asked to comment on the plan allowed, "It was either generate the electricity or convert the hillside to a giant water slide." When pushed for more detail, Wipfler suggested, "We may yet divert some of the water to allow for a slightly more modest amusement ride. The cost of sending our campers to the Whales' Tale waterpark in Lincoln has skyrocketed in recent summers." We found it interesting that this is not the first time the camp has lifted a building to enhance its program. Twice, Kingswood has jacked up a cabin known as the Guides Lodge. "We added the bowling alley in 04' and the ostrich farm in that cabin's basement in 2012," Wipfler reported. Lastly, with a twinkle, Wipfler acknowledged, "In nearby Quechee, Vermont there is a five star restaurant which boasts of a river view and power station. We figured we'd one-up them by having our own five star restaurant on top of the dam providing a nice view of the water slide."
Long time camper and former staff member of Kingswood, Gus Wood, was delighted by the announcement. "One thing the Wipfler family has always excelled at as stewards of Kingswood is getting the maximum benefit out of a situation by expending the least amount of resources, and billing the initiatives as environmentally optimal. As a case in point, when a historical wooden indoor gym collapsed in 1991 from the weight of a sparrow's nest, the obvious choice was to convert the cleared land into a freshly built horseshoes arena. It is in splendid continuity with this longstanding tradition of pioneering environmentalism that Kingswood would now convert its greatest vulnerability, rushing floodwaters, into a strong asset, that is, a hydro-electric power plant managed by the cook and some determined teenagers from Connecticut."