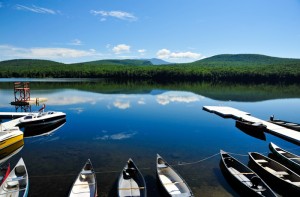 Kingswood is nestled on the southwestern shore of beautiful Lake Tarleton, which enjoys pristine waters and a stunning view of Mt. Moosilauke – the gateway to the White Mountains. The lake is two miles long and about 3/4 mile wide with just two year-round homes and four summer dwellings on its shores. In 1997, more than 5,000 acres of land adjoining Lake Tarleton were added to the National Forest, preserving our perfect location and view for years to come. From our shoreline, we cannot see a single light across the lake.
On a typical pleasant afternoon in July, if seven boats are on the lake, six of them are Kingswood's. We take full advantage of the lake for our waterfront clinics, fishing and snorkeling adventures, and trips around the lake to other discovered coves and shores.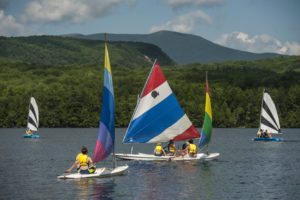 Kingswood has its own walking path around half of the lake. There are a variety of hikes within a mile of the camp. Boys can be immersed in a variety of natural experiences without needing to set foot in a car. We have a trail up Mt. Piermont, which leaves directly from one of our baseball fields. The Appalachian Trail runs nearby on Mt. Mist, then continues north to Mt. Moosilauke, with both mountains overlooking the lake. Groups of our hikers take advantage of our prime location on almost a daily basis.
Click on any picture below to view the gallery
We share Lake Tarleton primarly with a family of loons, along with osprey, bald eagles, beaver, mergansers, and herons, all of which are observed routinely. Kingswood works closely with the Lake Tarleton Association and we have had speakers from the Loon Preservation Committee share their knowledge and information about these stunning creatures.
Within ten miles are: the Connecticut River Valley, where we send several fishing trips each session, swimming holes to enjoy on hot days, and ponds to gather newts and other critters to add to terrariums.
Being in New England provides Kingswood with ideal summer weather. We enjoy days with average temperatures in the upper 70's and low 80's. In July, Lake Tarleton warms up to nearly 80 degrees at the surface. Cool nights make campfires and star gazing ideal.