All swimming holes are popular in the mid-July heat! Two lifeguards and up to thirteen boys enjoy these afternoon trips many times over the summer. All are just fifteen minutes from camp.
Click on any of the pictures to enlarge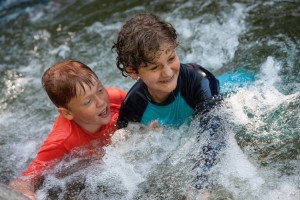 Sawyer River
A trip to this cold mountain stream, with big rocks to jump off and areas to build dams and forts, is a favorite on hot summer days.

Big Eddy
Just up the river from the Sawyer River drop-off, this trip features a waterfall and high rocks to jump from, landing safely in the deep, clear pools below!
Busted Rock
This trip features a nice rock to jump off of into a deep pool, flat rocks to lounge on in the sun, and some fun places to build a dam. Appealing for all ages.
Back to Trips                                                          Next to Fishing Trips