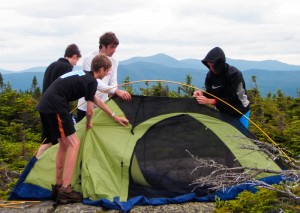 There are approximately 40 hikes that we send as trips in the White Mountains, and we are always looking for new and exciting trails. We send day hikes, as well as multi-day hikes. All hikes are sent with at least two staff members, and one of them is always SOLO Wilderness First Aid certified. Some of our most popular hikes are described below.
Franconia Range
The Franconia Range is the second highest range of peaks in the White Mountains. This rugged climb along the Appalachian Trail features miles of hiking above the tree line. This multi-day hike begins at Mt. Garfield (4,500 ft) and leads to Mt. Lafayette (5,249 ft.), Mt. Lincoln (5,089 ft.), Little Haystack Mt. (4,780 ft.), Mt. Liberty (4,459 ft.), and Mt. Flume (4,328 ft.). The Franconia Range is one of the most rewarding hiking trips with stunning views.
The Bonds
For experienced hikers, this six-summit trip provides stunning views and heart-pumping climbs. One of the less traveled hikes in the White Mountains, it is common to reach summits and be the only people there. Beginning on North Twin (4761 ft) and leading up the steep side of South Twin (4902 ft.), the trail goes over Mount Bond (4,698 ft), Bondcliff (4,265 ft), and West Bond, (4,540 ft). This is a strenuous three-day hike, deep in the Pemigewassett Wilderness.
Presidential Range
The Presidentials are the highest mountains in the Northeast. Each offers spectacular views and vigorous climbs. While the Presidential Range can be a multi-day hike, Kingswood most often offers each mountain as a day hike. Due to their popularity among hikers around the world, we opt to take less traveled trails and avoid over-crowded huts. Mt. Adams (5,774 ft.), Mt. Jefferson (5,712 ft.), and Mt. Washington (6,288 ft.) are Kingswood's most commonly hiked Presidentials.
Back to Trips                                            Next to Once a Summer Trips