Camp Proximity & Location
Kingswood Camp is located in the western part of New Hampshire, about ten miles from the Connecticut River Valley and on the southwestern boundary of the White Mountain National Forest. It s about thirty miles north of Hanover, a beautiful town and home of Dartmouth College. Driving times are as follows:
2.5 hours from Boston
5 hours from New York City
10 hours from Baltimore-Washington, D.C.
Directions to Camp
FROM THE NEW YORK CITY AREA: Take I-95 to New Haven, CT where you meet I-91 North. Stay on 91 North to Bradford, VT (Exit 16). At the exit ramp, turn right onto Route 25. Cross the Connecticut River into NH. In Piermont, NH, at a blinking light, Route 25C joins Route 25. Go straight ahead on 25C for 7 miles to camp. Entrance is on the left at the camp sign.
FROM THE BOSTON AREA: Take I-93 North to Exit 26 (Route 3A, 25 – Plymouth/Rumney, NH). Follow 25 West to Warren, NH (About 40 minutes). Turn left onto Route 25C. Follow 25C 5 miles to camp. Camp sign and entrance are on the right.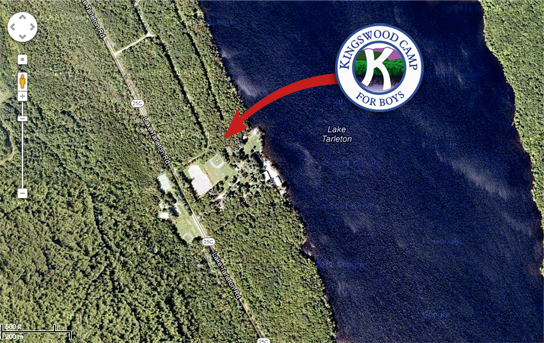 About Lake Tarleton
Kingswood is on the southwestern shore of Lake Tarleton, which enjoys pristine waters and a panoramic view of the White Mountains. The lake is two miles long and about 3/4 mile wide with practically no other development whatsoever. In 1997, more than 5,000 acres of land adjoining Lake Tarleton were added to the National Forest, leaving Kingswood almost alone. On a typical pleasant afternoon in July, if seven boats are on the lake, six of them are Kingswood's.