The Kingswood Promise
"No boy slips through the cracks at Kingswood" was our opening remark to the staff in 1985 and remains as the foundation of every philosophical conversation to this day. By these words, we mean that campers will be safe both physically and emotionally under our watchful eye.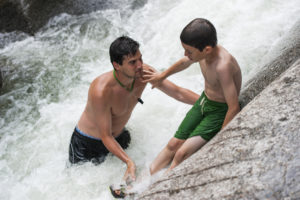 Of the two, the physical part is by far the easier to achieve. Every activity follows a "Plan A" script that has been designed, tweaked and approved by the camp's administrators. Today, the number of leaders has expanded well beyond the camp's founders to include a middle management team of more than a dozen dedicated educators. "Plan A" always evokes safety first and fun second. Our counselors are trained to follow strict protocols for all activities, including contact sports like lacrosse and rainy day hikes. Life being what it is, however, "Plan A" sometimes has to evolve to "Plan B" which also has been anticipated beforehand and with a safe outcome expected. There is never a "Plan C," or an unauthorized diversion from time-tested approaches.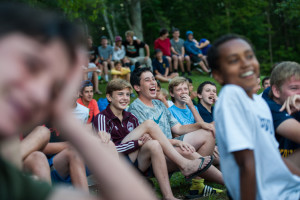 Any camp director who is speaking the truth to families acknowledges it is the emotional well being of his charges that keeps him awake at night. No organization invested in young people can prevent kids from sometimes saying and doing hurtful things to others. "No boy slips through the cracks at Kingswood" means we are always alert to signals from campers when things may not be going so well for them at the moment.
How do we learn about boys' hidden feelings? It starts with the directors being hands-on leaders. We are the folks who delight in spending hours each day being out of the office observing and interacting with the boys. Bob (Mr. Wiff) posts a daily newsletter incorporating Sara's professional photographs. Alice, as camp mother, coordinates with the kitchen and infirmary on issues she knows that parents care about. Rob knows every boy's name by the end of the first day. Mike and Becky work to create a schedule for each boy based on individual choice on a daily basis. We are all attuned to what is happening at camp day in and day out.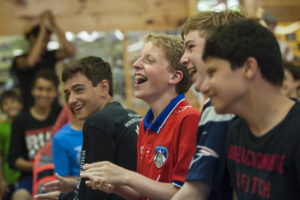 At meals, the directors stand by the dining room door, welcoming boys and looking for that sparkle of eye and skip to step. When those qualities are diminished or absent, we notice and act. Immediately, the boy's counselors and appropriate administrators are consulted. We make it a priority to diagnose the cause of the unhappiness and create a plan of action. When deemed necessary, parents are contacted. Most of the time, happily, we get to the bottom of things without much ado.
But even then, a strong family commitment is just the beginning. The Kingswood Staff Manual opens with this statement: "The staff is everything." So, how do we achieve our goal? A fair question, the answer to which also came to us in 1985, our first summer at the Kingswood helm: Grow our own counselors. Way back then, we started pegging young campers who seemed to have a special attachment to camp. Fast forward all these summers, and staff loyalty is undeniably the strongest evidence of our philosophy taking root.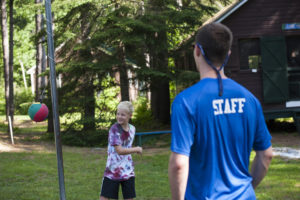 Over the past several years, the cumulative Kingswood summers of staff has been in the 700+ years range. Think about that! These counselors have not only been trained to be on the lookout for the emotional well being of kids, but they also have experienced it – first hand and at Kingswood.
The result of our efforts, from the top on down, is a community that truly is one big family. In the Kingswood family, everyone – and we mean 100% – is known and valued. As a "known" person, each boy can count on help from all the others to find places where he can shine; and as a "valued" person, he can expect for his contributions to the community to be highlighted and celebrated. A star athlete, a shy ten year old, and a mostly unseen kitchen worker all get the same recognition at Kingswood. Our whole program is meant to be responsive – to individual interests, to weather, to energy – and inclusive.
Nothing gives us greater pleasure than remarking to a group of young counselors, "Make this summer's camp environment a safe and happy one for the boys, just like it was for you," and receiving in turn an all-knowing smile and a "Yes, it will happen!"
Thus, when we say "No boy slips through the cracks at Kingswood," we really mean it. And, when we get that very rare phone call to the contrary, our instant reply has been and always will be "We are on the case at once." That's a promise!
SELECTED KINGSWOOD COMMENTARIES
Over the course of many years, the Wipfler family has produced many articles on camping.  The bulleted points below indicate the subject matter. Commentaries from 2011 and earlier can be accessed by visiting the archives.
2017 Changes at Camp
2016 How Camp Builds Grit
2014 Technology and Kingswood: Our Philosophy and an Exciting Announcement
The use of electronic devices at camp is an issue that is on the minds of camp parents.
We stand by the idea that camp is a place to experience the richness and opportunity to develop meaningful and long-lasting friendships afforded by being a member of our multi-generational community.
The intelligent use of technology in the Kingswood office can actually enhance the traditional nature of camp.
It will be important to remember that, no matter how modern our office becomes, the experience for the campers will remain the same as it has been for the past 30 years: "unplugged", outdoors, active, and full of social interactions and friendships that will last a lifetime.
2013 Dual Commentary by Co-Directors Bob and Rob Wipfler 
When Rob approached his parents to dream aloud of moving to New Hampshire to start a fresh career of co-directing the camp, we knew the time was ripe to advance the business into its second generation of leadership.
What we intend to do is to provide an even better product- to be increasingly more thorough, and run an ever-tighter ship.
It's my goal to work tirelessly to make the Kingswood experience an even better one than it already is.
2012 Determining the Right Length of Time for a Child to Spend at Camp
Most traditional camp folks agree that simple tenure – the actual number of days spent away from home – is the key to an experience that has lasting value to a child.
Our fear is that the two-week session might result in some boys getting plucked from the camp environment just as the prime value of the adventure is kicking into motion.
A boy eventually wakes up one morning and no longer finds himself being swept along, but is charting his own course.
Knowing that by the end of the third week just about all campers are on a roll, the staff uses that fourth week to completely win boys over to the camp experience.
Boys who stay for the full summer develop a swagger – a happy, completely contented, measurable attitude that has lasting effect on them.
Clean Mirth (from a plaque we found deep in the woods)
SIMPLENESS: Unpretentious pleasure trumps materialism.
GENTLENESS: "To make a friend, you have to be a friend."
HONOR: An honorable person brings credit to himself, usually by adhering to conventional standards of conduct. At Kingswood, we talk more about honor, without necessarily defining it, than any other virtue.
CLEAN MIRTH: The dictionary defines "mirth" as "amusement, especially as in expressed with laughter." But, we found "clean" to mean "morally uncontaminated, pure, innocent, and not sexually offensive or obscene." How sweet clean mirth is!
The Morality Dialogue
Sportsmanship always is good because we, as a community, demand it.
Discussions about integrity and civility pale by comparison to your own acts of honesty and kindness.
Children this age want to live inside an untouchable zone where no one, mom and dad especially, have any influence over them. Obviously, though, parents cannot just cede them this territory.
Kids can get quite manipulative when it comes to discussing the whats and whys of their behavior. The trick is to acknowledge their ultimate freedom of choice, but remain vested in the outcome.
Another really good rule of engagement is to let your children know that you intend to respect and follow the advice given to you by their educators and other role models. So should they.
Kids feel entitled when in their own homes. As parents, you must get them to see that once out the door, the rules of moral engagement change.
The Beauty of a Skinned Knee
"To love something is to give it room enough to grow."
We spoke of "those wonderful hardships" associated with experiences away from home by many boys at camp.
"Losing provides a far better character check than does winning."
Parents have to accept the notion that some risk, some discomfort, some momentary failure is not only good but great for their kids.
The decentralization of parenthood can begin as soon as mom and dad sense their child is old enough to assimilate real life experiences.
Multigenerational Influences on Youngsters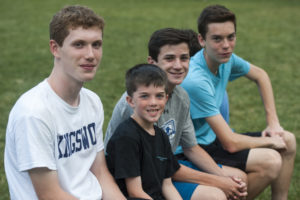 We notice great interplay between every age group from the grizzled administration to the youngest sandcastle builders.
That "tradition of expectation" is an overwhelming force at camp and it explains everything from good sportsmanship on the ball fields, to hiking with a swagger despite feeling some physical discomfort, to making friends in the cabins with boys of differing temperaments and interests.
The Professionalization of Childhood
Every parent professes to absolutely know what is best for his child and some are hesitant to accept time-honored guidance from child specialists.
The other hard sell with parents is to convince them there's plenty of time next school year and down the road for developing professional skills, resume building and networking future contacts.
At Kingswood we truly labor to attract wholesome boys to our midst, even if it means a few beds go wanting in any given year. "I fish ponds very carefully," I tell prospective families.
Human values are the driving force and truly the grounding of our philosophy.
All these little gestures added up to the point where everybody knew everybody else at Kingswood and mirth became evenly distributed!
The Staff is Everything
I tell counselors, "Parents who send their sons to Kingswood expect you to engage, protect, cajole, remind, discipline, counsel, teach, comfort and befriend their precious children."
Make believe that your every action in the presence of boys is being video taped.
Boys truly enjoy low regimentation activities with some, but not too much, structure.
At Kingswood, we believe kids indeed need freedom, not in its absolute sense, but with parameters – common sense rules and timely supervision.
In lower supervision times of the day, the staff falls back into a "zone defense," to be certain adult eyes and ears have the campground thoroughly scoped.